It may not yield as much debate as the recent social media dress color debacle, but the question remains: did Ideaworks Marketing win three, or four awards at the 2015 Addys?
The American Advertising Federation of northeast Pennsylvania (AAF-NEPA), held its annual awards ceremony, affectionately known as the Addys, this past February 20, and three entries from Ideaworks proved to be winners – or four, if you so choose.
Below, a photo of the one Gold, and two Silver awards given to Ideaworks. The winning pieces included a Wedding Invitation Package (Gold/Judge's Choice for Collateral Material); the "Street Eatz" campaign (Silver for Sales Promotion, Branded Environment); and the Ideaworks 2015 Calendar (Silver for Self Promotion, Advertising Industry).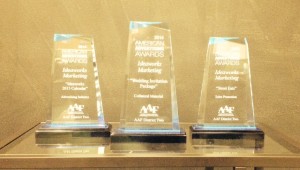 And here is the Wedding Invitation Package that garnered the Gold: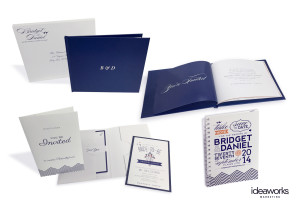 Bridget and Daniel were a winning combination, and so was their wedding invitation package. They likely wrote a lot of thank-you notes when their festivities concluded, and all of us at Ideaworks would like to thank them for inspiring this work, that brought in both a Gold, and a Judge's Choice award!
It all adds up to four awards, since of course, Gold and Judge's Choice are two separate awards (that often overlap). So while three of Ideaworks' pieces won, a total of four awards were earned. Here is the complete award set, the Judge's Choice in the form of a fabulous miniature billboard from Lamar Advertising.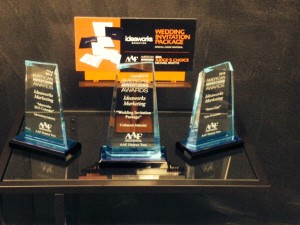 Yes, we could have said that from the beginning — but the Addys are just as much about having fun, as they are about recognizing excellence in advertising creativity. Ideaworks congratulates all the Addy winners from the 2015 AAF-NEPA event.