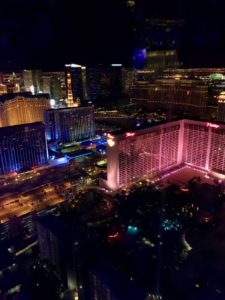 Las Vegas, NV: Arguably, it is one of the most vibrant resort cities in the United States, characterized by its flashing lights, world-renowned food and a lively, distinct culture all its own. This past February, our president & CEO, Donna Hansbury, director of marketing communications, Chelsey Tupper, and marketing communications manager, Alyssa Zekoski, traveled to this spirited city to attend Catersource, a premier conference and tradeshow for catering and event professionals. The team celebrated much success while on the trip, and found that their Catersource 2018 experience was much like the city of Las Vegas itself – bringing with it bright business opportunities; the chance to try unique cuisine from the industry's best; and the opportunity to better understand the unique culture of the catering and special events industry so we can make our new catering marketing platform, gemworx, even more relevant to event professionals' needs.
Donna, Chelsey and Alyssa stayed at Caesar's Palace, where a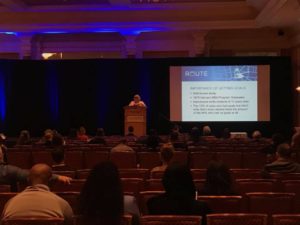 number of Catersource events were held, including educational sessions and a presentation from our own Donna Hansbury. Several months ago, Donna was asked to join other distinguished professionals and present at Catersource for the third time, which she enthusiastically accepted. In her presentation, entitled GPS Marketing: A Simplified Approach to Creating a Marketing Plan You Will Use, Not Lose, Donna discussed simplified steps attendees could take to make the process of creating a marketing plan less daunting and more streamlined.
The GPS presentation was incredibly well-received, so much so that one of the conference attendees said it was one of the best she's ever attended, and that the workbook handout was the greatest takeaway she ever received from a conference.
The team exhibited at the Catersource Tradeshow on Tuesday, February 20th and Wednesday, February 21st, unveiling our new catering product, gemworx, to tradeshow attendees. Gemworx is a powerful marketing platform built specifically for caterers of any size. Among other benefits, the platform:
Saves caterers time and money marketing their business
Provides subscribers access to cutting-edge marketing collateral without the expense
Offers the ability to customize selected catering and event resources with one's individual brand identity
Lets caterers/event professionals easily personalize materials to meet their customers' needs
Allows for easy differentiation of one's business with professionally-designed materials like brochures, postcards, business cards, social media post examples and best practices, blog ideas, etc.
Provides the ability to generate additional revenue with items caterers' customers need, like printed menus, invitations, save-the-date cards, table numbers, place cards, item identifiers, etc.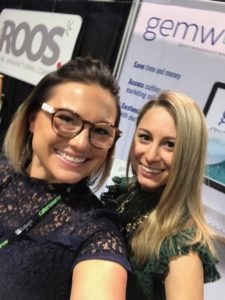 Many attendees spoke with Donna, Chelsey and Alyssa about gemworx and scheduled demonstrations to learn more about what it can do for them. They also shared valuable feedback with the team that we are using to enhance our gemworx offerings. Gemworx will officially launch in April.
The team tasted several delicious dishes that were freshly prepared on the tradeshow floor, including grilled pepper salmon, chilled kale-broccoli salad with fruit, crispy chicken hors oeuvres and more. Chef Marcus Samuelsson, head chef of Red Rooster in Harlem, NY, and a featured judge on Food Network's Chopped, was also in attendance, and Alyssa had the opportunity to meet with him, tasting some of the cuisine he prepared alongside U.S. Foods.
"It was such an incredible experience to attend Catersource for the third time in my career," said Donna. "On top of being a presenter, it was fascinating to unveil gemworx on a national level to some of the most distinguished caterers and special events professionals in the industry." Chelsey had this to say about the experience, "I have always wanted to attend Catersource, and it was such a great experience being able to represent Ideaworks and introduce gemworx. I loved networking with some of the industry's bests. I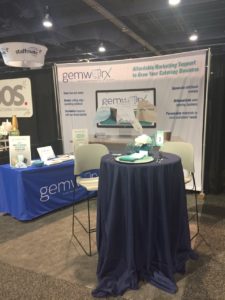 truly feel like Ideaworks will reap a huge benefit from attending the Catersource Conference and Tradeshow." Alyssa added, "Not only did Chelsey and I get to watch Donna deliver an inspiring presentation to catering and event professionals, but we were also able to speak with those individuals one-on-one at the gemworx booth, which will help us tailor our new product to their specific business needs."
In all, the trip was a wonderful opportunity for Ideaworks to share our marketing expertise with industry professionals and make a new mark on the events industry by unveiling a product that will streamline caterers' marketing efforts. We look forward to all that is to come for gemworx in the years ahead!