Earlier this month, our Direc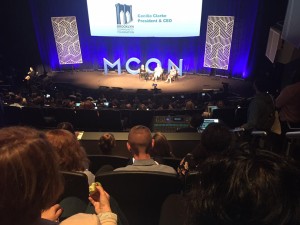 tor of Marketing Communications, Chelsey Tupper, attended the 2017 MCON conference, held at the Newseum in Washington, D.C. This annual conference sparked her interest, as it is designed for individuals who are dedicated to social good and societal change, and who want to hear from some of the most notable thought leaders on cause-related marketing and activists who feel passionately about their work. Much of what was discussed included ways to attract more millennials to show support and interest in a particular cause by using creative branding strategies and other well-thought-out marketing tactics that resonate well with this generation.
During the conference, Chelsey heard from a number of accomplished speakers who drove home a vital point: through its work, a business must personify its very roots and reasons for doing – put plainly, each day, employees should reflect their company's core beliefs. In addition to the #GivingTuesday Townhall, during which she learned a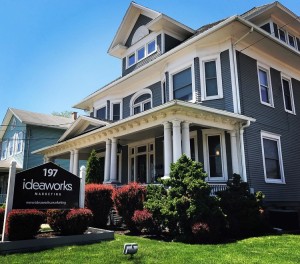 bout assimilating charitable efforts in your business practices annually, this central message from MCON resonated for Chelsey, who would return home to continue breathing life into Ideaworks' own philanthropic initiatives with the entire team – a practice that Ideaworks has been committed to for over 20 years, as one of our foundational values is service to others.
This dedication is shown by our unwavering commitment to local organizations like Blue Chip Farms Animal Refuge. Blue Chip Farms, located in Dallas, PA, is a non-profit, no-kill animal shelter that provides care, comfort and a loving home to every animal that is brought to its safe haven, regardless of health impairments or age. Being animal lovers, Ideaworks' owners Peter and Judy Steve elected Blue Chip as our charity of choice in 2015. Since then, we have gone on to provide a wide range of marketing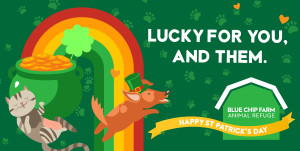 support to Blue Chip at no cost, helping its team spearhead some of its most valuable initiatives like Adopt-A-Kennel, Legacy of Love and the newest sponsorship program, Kitty Condos. Working with Blue Chip continues to be one of our company highlights, but this has not been a solitary effort. We continue to reflect upon our core beliefs and participate in various cause-related initiatives.
In March and April of this year, our team participated in the Back Mountain Chamber's Spring Food Drive, donating non-perishable items to the Back Mountain Food Bank. Giving back to the community and providing healthy, nutrient-rich meals to families is an effort we are committed to in our work, as some of our largest clients are proponents of healthy living, clean environments and optimal quality of life.
This month, Ideaworks was fully committed to raising awareness for various causes and helping individuals in the process. We "went purple" for Alzheimer's and o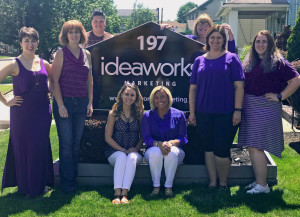 ther dementias, being that June is National Alzheimer's and Brain Awareness Month. Our team enthusiastically involved themselves in this project by changing our email signatures from black to purple text, the recognized color of the Alzheimer's Association, and including a call to action to "#ENDALZ" in the sign off. We also scheduled a day to wear purple and heightened awareness for this worthy cause on social media.
Also in June, we had the opportunity to team up with the Greater Wilkes-Barre Association for the Blind. We hosted a high school student in the Association's Transition Assistance Program, who expressed an inte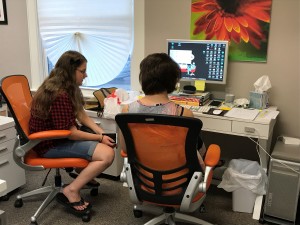 rest in becoming a graphic designer and photographer in the future. She learned a lot while job shadowing our creative designers and also enjoyed lunch with our team where she was able to hear more about what differentiates us as an agency. We are proud of this young girl and know she will continue to grow in her craft in the years to come.
At Ideaworks, we firmly believe that day in and day out, you should be communicating what your business is truly about, and acting as a spokesperson for those values that your company holds dear. While raising awareness during National Alzheimer's and Brain Awareness Month, choosing Blue Chip Farms as our "charity of choice" and partaking in other local initiatives have been excellent opportunities for us to get involved, they will certainly not be the last. As put by Christina Tosi (award-winning owner of Milk Bar Bakery with locations in New York, Washington, D.C., Las Vegas and Toronto), who offered insights to her MCON audience, "It's easy to support things when you believe in them."