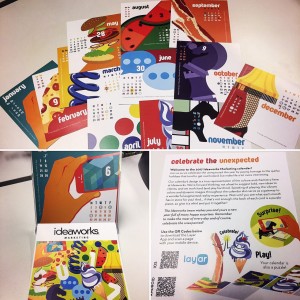 We're excited to show off the 2017 Ideaworks calendar! Each year, we brainstorm a new calendar concept to make sure it's fun and interactive. Our team then works diligently to bring the concept to life. Once produced, the calendars are given to clients, business associates, and friends of Ideaworks, and they are always a hit!
For 2017, our calendar celebrates the unexpected by paying homage to the quirky holidays that tend to get overlooked but make life a lot more interesting. This year's calendar design is a true representation of the culture and chemistry here at Ideaworks. We're forward thinking; not afraid to suggest bold, new ideas to clients; and we work hard (and play hard too). Speaking of playing, the vibrant colors and dynamic images throughout the calendar also serve as a gateway to a wonderful augmented reality experience using the Layar App. Each month has something new and fun in store, and if that's not enough, the back of each card is a puzzle piece.
Let us know if you'd like to receive a 2017 Ideaworks calendar, and we'll be sure to get one to you. From all of us at Ideaworks, we wish you and yours a new year full of many happy surprises. Remember to make the most of each day, and of course, celebrate the unexpected!