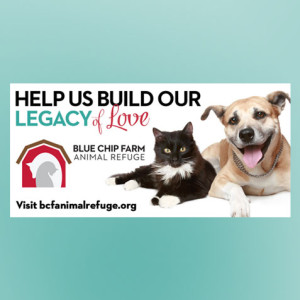 Blue Chip Animal Farm invites the northeast Pennsylvania community to take part in its Legacy of Love memory wall unveiling on Saturday, November 5 at 1 p.m. at Blue Chip Animal Farm in Dallas, PA. The event will celebrate the installation of the organization's Legacy of Love memory wall constructed entirely of commemorative bricks purchased by Blue Chip supporters.
Bricks purchased not only contribute to the ongoing construction of the memory wall but also help to offset operating costs at Blue Chip. Bricks can be purchased online at www.bcfanimalrefuge.org in addition to at the event. "We hope to create a wall of 600 memories at Blue Chip Farm, and to build a space of love and remembrance for all of the animals and animal lovers that have passed away. Those who purchase a brick are doing a service in memory of their loved ones because 100% of the funds will go to support the ongoing cost of operation of Blue Chip Animal Farm," says Cordie Braun, director of Blue Chip.
Ideaworks has taken on Blue Chip as its charity of choice, which means we provide the non-profit with complimentary marketing services. Specifically for the Legacy of Love memory wall, Ideaworks  created the marketing materials and webpage, along with coordinating and executing the public relations effort for the unveiling event. Ideaworks also did the Legacy of Love billboard design, which can be seen in Luzerne and Lackawanna counties. Lamar Advertising was very generous to donate the billboard space. We hope you'll come out and support this wonderful organization on November 5 and/or purchase a brick to memorialize a pet or pet lover in your life.