Several months ago, our agency's president and CEO Donna Hansbury penned a blog post about the feeling of home. She reflected on the importance of togetherness and of keeping human connection strong. And, as she always seems to do – even during a global pandemic – she looked at the bright side: How our team members continue to meet one another in new contexts, with our regular Zoom sessions providing unique glimpses into each other's lives and homes.
Around this same time, we started discussing our 2021 agency calendar—on Zoom, of course—putting our heads together to land on a topic we were passionate about, and that would inspire others to have the kind of year that we are all still hoping for: One that is upbeat and positive. Healthy and happy. A year that brings us all back together as one.
Too often, we look at a year as a disjointed series of starts and stops, months' ends and months' beginnings. And, truth be told, it wasn't uncommon to hear us talk about 2020 with frustration and worry from time to time. But we always came back together, refocused our attention on the positive, and remembered that we don't need to look at a year in fragments or define it by that which is negative and divisive. We can—and should—look at a year as an interconnected series of moments, experiences and celebrations that bring us all together as one.
As our conversations unfolded, diversity and inclusion quickly became our theme, and from there, the 2021 Ideaworks calendar was born.
Each month's calendar card features a unique illustration that highlights a particular diversity observance, like Women's History Month in March and Pride Month in June. But, because we believe in creative ingenuity and the beauty of turning something on its head, the real magic comes when you flip the cards over and they form our mural. You'll see everything come together, like how the spirited little girl playing on a jungle gym for International Youth Day in August is the same girl who's climbing a ladder for International Women's Day in March.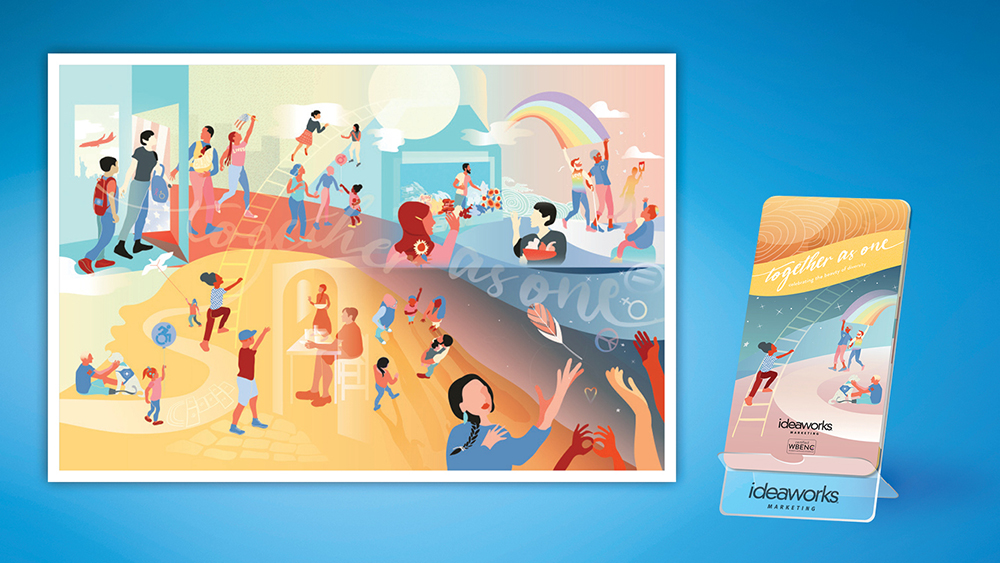 We don't want to give it all away, so we invite you to email Alyssa Ellsworth at alyssaz@ideaworks.marketing if you'd like to receive a calendar of your own. You can also request a poster print of our originally designed Together As One mural for your home or office by clicking here.
From all of us at Ideaworks Marketing, happy new year. Let's celebrate all that brings us together.